European Coating Symposium 2023 in Paris
The 15
th
European Coating Symposium will take place in
Paris, France
from September 12
th
to September 15
th
2023.
For Registration and more information please visit:
www.ecs2023.sciencesconf.org
Download the flyer here: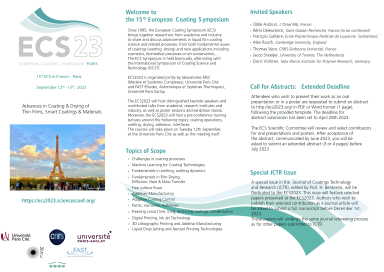 ECS 2023 CHAIRS:
Prof. L. Laurent (University of Paris)
Prof. L. Pauchard (CNRS, Paris)
Announcement: ECS 2025 in A Coruña
The 16th European Coating Symposium will take place in A Coruña in September 2025.
It will be chaired by Prof. A. Gosset (Universidade da Coruña).